Cobalt Blue is an authorized and approved manufacturer of hoses for CO2 Systems. We have received approval from BV and DNV-GL as an approved assembler. Our manufacturing process complies with the highest quality standards.
We can ensure: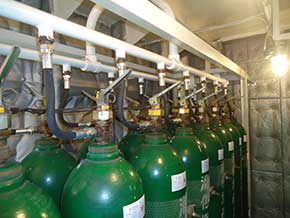 prompt production not exceeding 2 days
delivery at any port of the world
installation / replacement of hoses by our own technical team, if this is not undertaken by Ship's crew
very competitive prices
According to the IMO Regulation Circ. /1318, the Flexible Hoses must be replaced at intervals not exceeding ten years.
Distributors
Dimensions for Unitor Systems

| | |
| --- | --- |
| Product codes | Dimensions |
| 10/330 | 330 mm with male ½. - female 21, 8 x 14 fittings |
| 6/290 | 290 mm with male - male 3/8. BSP fittings |
| 6/600 | 600 mm with male - male 3/8. BSP fittings |
| 6/340 T8 | 340 mm with male - male 3/8. BSP fittings |
| 6/320-8 | 320 mm with male - male 3/8. BSP fittings |
Dimensions for Kawasaki Systems
| | |
| --- | --- |
| Product codes | Dimensions |
| 63113-50000 | 361 mm with female - female ¾. fittings |
Dimensions for NK-Pilot Systems
| | |
| --- | --- |
| Product codes | Dimensions |
| 1013951 | 650 mm with female - female 21, 8 x 14 fittings |
| K93433 | 374 mm with 3/8. male - male, UNF fittings |
| K93434 | 527 mm with male - male 3/8., UNF fittings |